The area of a parking lot covered with photovoltaic modules provides the energy to drive 20,000 km per year with an electric car. For this, however, the car would have to be charged whenever the sun shines. Now, most cars are not parked in the garage during the day, but in the parking lot at the workplace, at the shopping center or on a weekend trip sometimes at train stations or airports.
So it is exactly these parking lots that need to be covered with PV systems to charge the cars directly with solar energy.
Parking lot becomes power station
parking spaces at the shoppping center
company parking lots
public parking lots
privately used parking spaces at buildings
park and rail parking lots at the train station
Parking lots at the sports center
Visualization Solar Parking FLASH, Bifacial Modules | Planning, Design & Statics: swisscarport.ch©
"Fleet vehicles and your employees' e-cars can be charged at an annual average rate of up to about 70% with in-house produced solar power."

Ecologically sustainable built for Co2 free energy production
Wood vs. steel or aluminum construction

Our solar carports are designed to help reduce CO2 emissions. The energy required for production plays a decisive role in the point at which a solar carport reaches the break-even point, i.e. the energy required for the production of the components has been produced.

Unlike steel and aluminum, wood is a renewable CO2-neutral building material. The energy consumption for an installable component is about 200 times lower for wood than for aluminum. Wood grows on our doorstep, transport routes also favor the ecological balance of wood.

The break-even point is reached much faster with a wooden supporting structure than with a steel or aluminum supporting structure.
"The energy consumption for an installable component is about 200 times less with wood than with aluminum."
Improve the ecological image of your company
Awareness of sustainability is increasing in various areas of life. Many companies know: it is not just a passing trend. They are restructuring internally, establishing an ecological image and using the sustainability strategy for a new customer segment.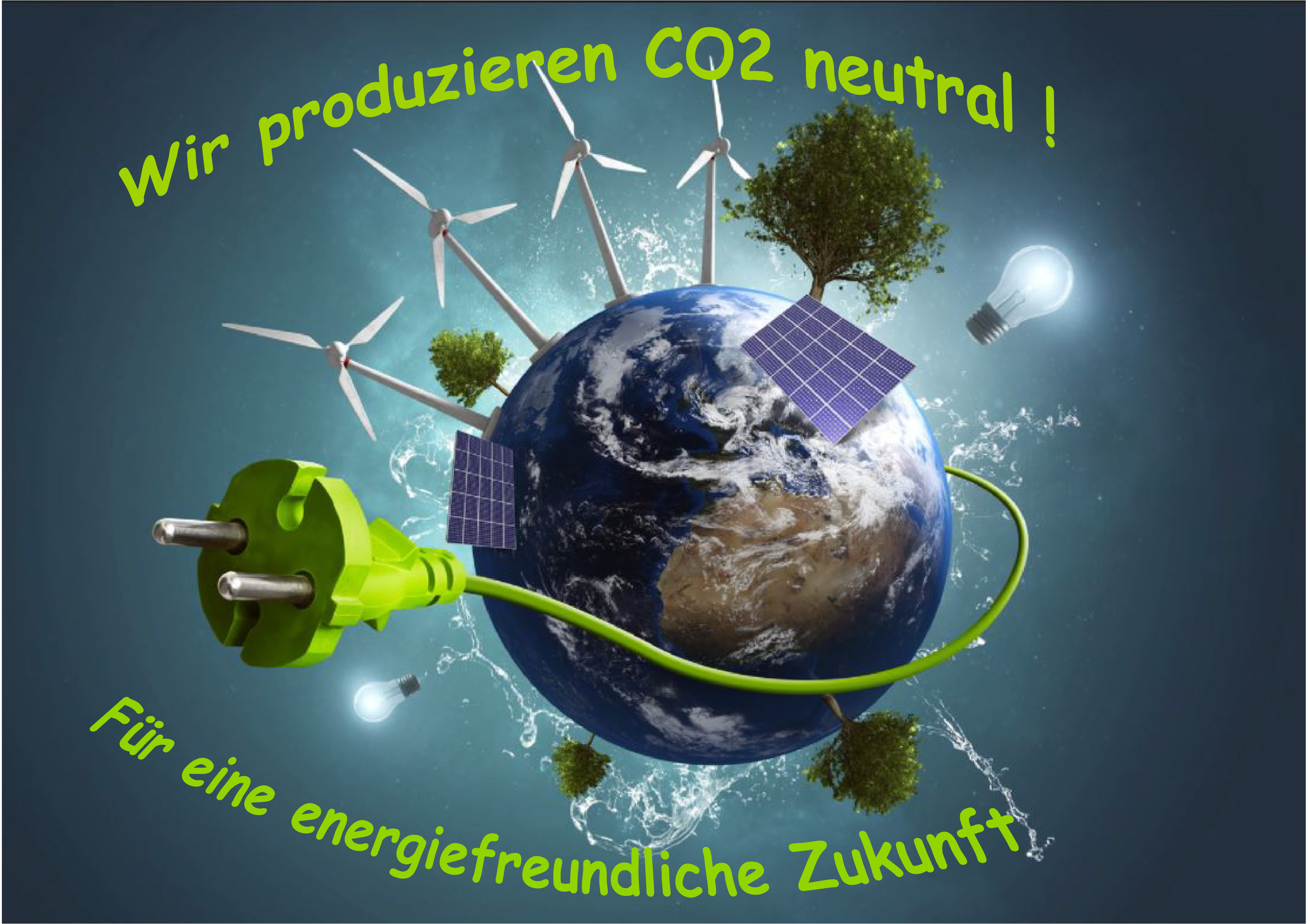 Image with symbols for Co2 neutral energy production
Investment efficiency
Secure investment in the future
With a solar parking lot, you make a valuable contribution to climate protection. But also financially, a solar parking lot can be operated profitably. As the operator, you can use the generated electricity yourself or sell it.
Possible current collectors are:
self-consumption
sale via car charging stations
sale to companies or private individuals
sale to grid operators
solar storage


Charging station for electric car

Companies with production areas, shopping centers or office buildings are often large consumers of electricity. The electricity is needed during working hours, i.e. exactly when the PV system is producing. Thus, most of the energy can be used as self-consumption.
Companies with attached production can consume up to 100% of the produced electricity themselves. With a solar parking lot with 100 parking spaces you save up to CHF 50`000.- in electricity costs per year. The parking lot is amortized within approx. 10 years and will generate CHF 50`000.- profit per year.
Planning, production and services
Solar carport model FLASH was developed by swisscarport.ch. Design and geometry were adapted to the needs of a public parking lot. Modern appearance, freedom of movement when parking, rational assembly and durability were the main criteria.
Static verifications for the supporting structure were calculated for the snow load of 120 kg/m2 (525 m.a.s.l.) and 180 kg/m2 (650 m.a.s.l.).
Visualization Single Wing, bifacial modules | Planning, design & statics: swisscarport.ch©
Project based planning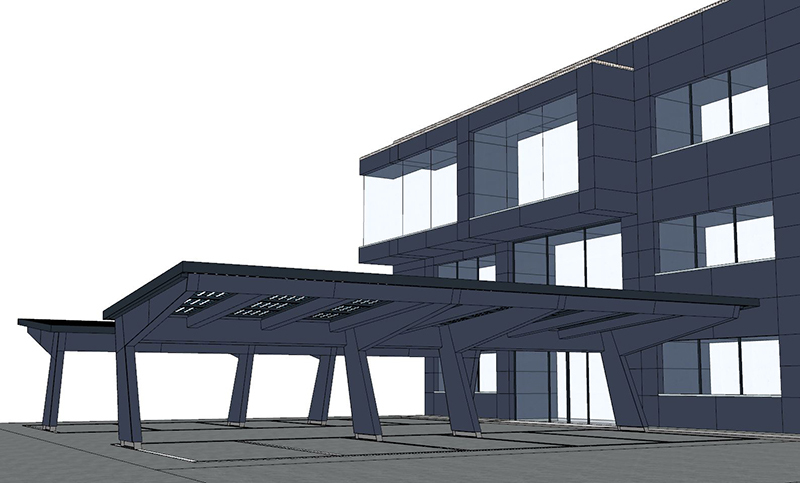 The FLASH carport model is a standardized product. If the various construction parts can be produced in larger quantities and in the same form, considerable price advantages arise for the end customer.

Project-related planning, i.e. deviations from standard, are possible to a certain extent.

Constructions deviating from the standard are designed by our planning office,
statically calculated and presented as design proposals.

The planning and additional efforts for constructions that deviate from the standard cause additional costs.
View of a project in our CAD |swisscarport.ch©
Decisive for the longevity of a wooden construction is the constructive wood protection,
that is, the roof that protects the wooden structure from the weather.
As with the old wooden bridges, the solid construction timbers of the solar carport
FLASH are practically completely protected from direct weathering.

The outer sides, which are exposed to the weather, are clad with HPL
synthetic resin panels. The remaining wood is protected by the
protected by the cantilevered roof.















HPL synthetic resin panels on supporting structure FLASH |swisscarport.ch©


Production
The construction timbers are bound to the millimeter by a modern CNC joinery machine on the basis of our CAD files.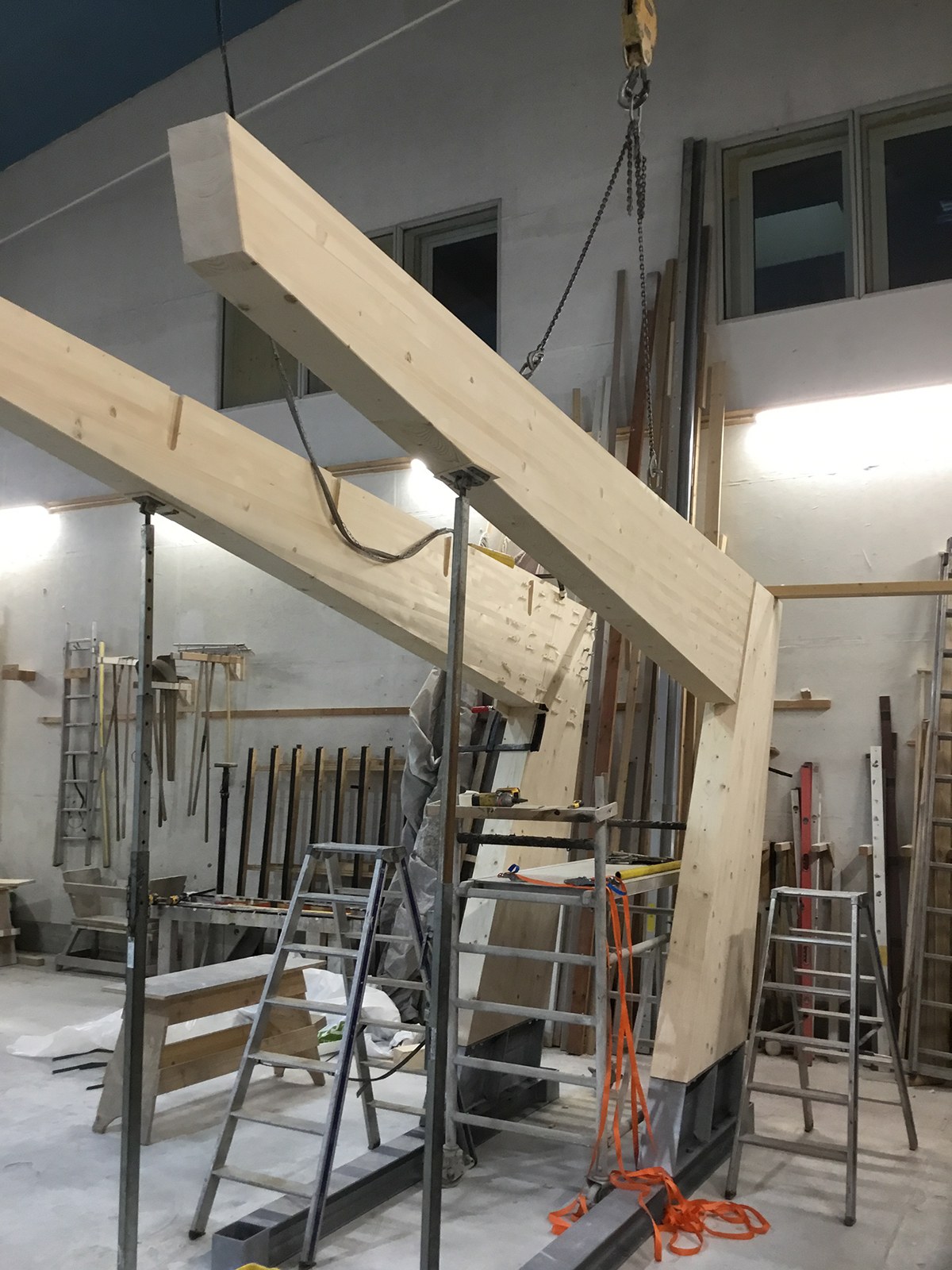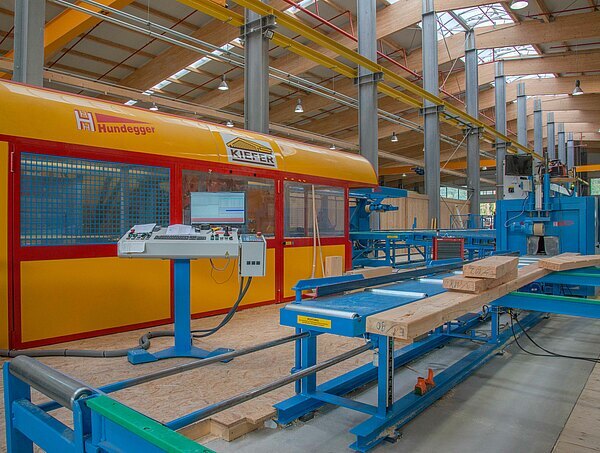 Joinery plant at our joinery partner

"Due to the well thought-out geometry of the supporting structure, virtually all wooden parts have structural weather protection and are hardly exposed to the sun or weathered by rain."
Workshop picture: Ready glued and assembled trusses |swisscarport.ch©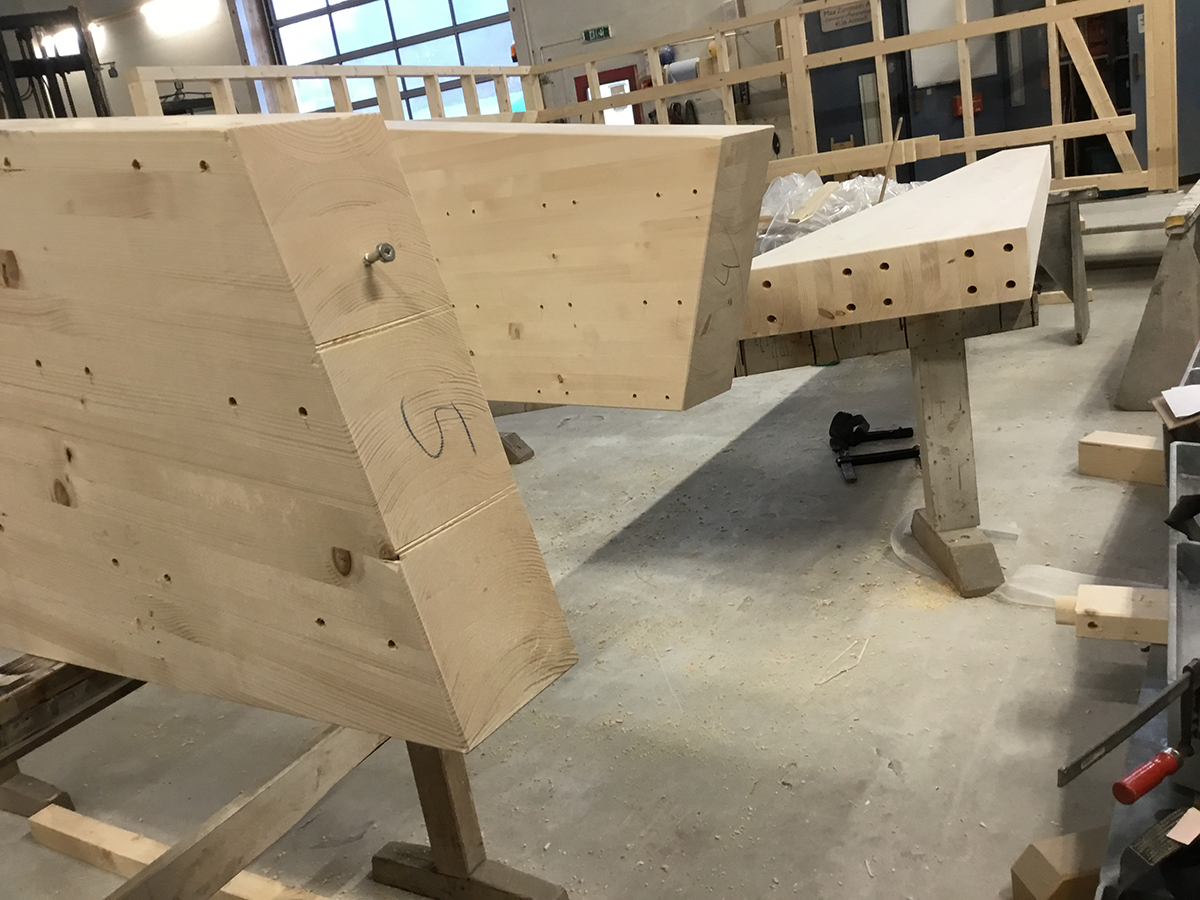 Workshop picture: supports and cantilevers before gluing |swisscarport.ch©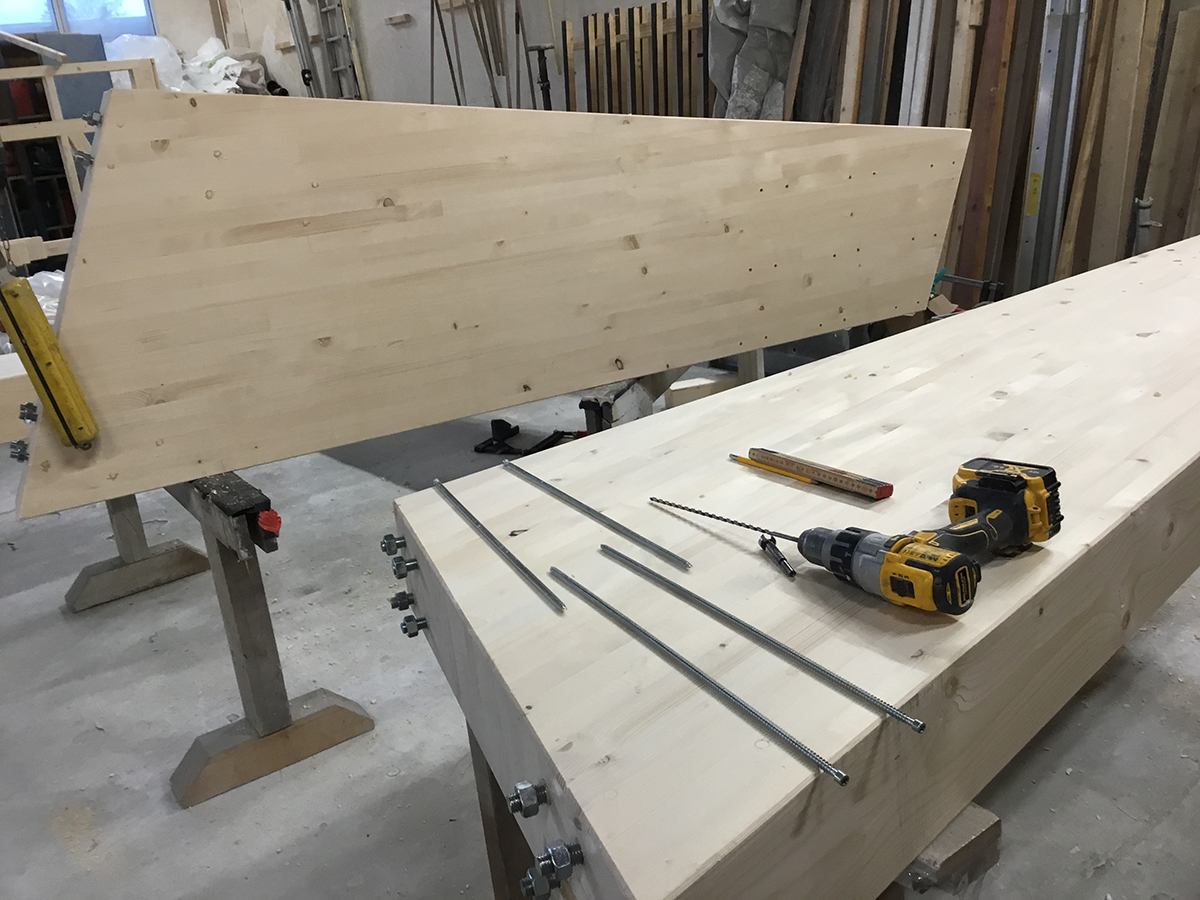 Workshop picture: supports prepared for gluing |swisscarport.ch©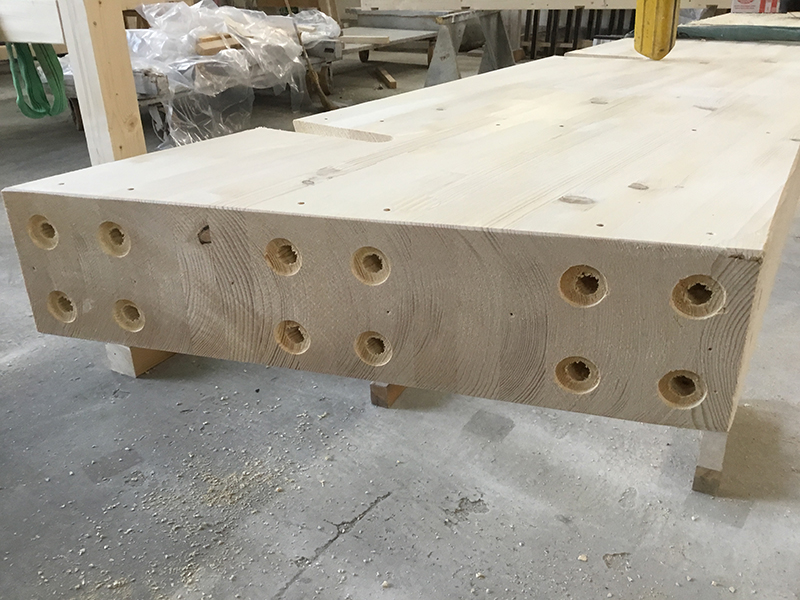 Workshop picture: supports prepared for gluing |swisscarport.ch©
Surface treatment of the supporting structure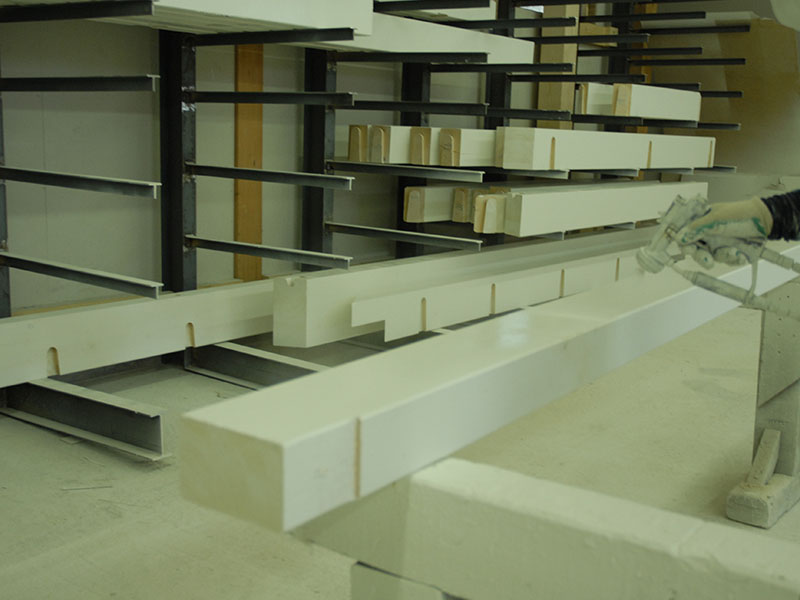 Water-based coatings have become practically indispensable in the wood industry. The water-thinnable system coatings do not contain any volatile organic compounds (VOC). VOC is largely responsible for the formation of ground-level ozone (summer smog) and has been taxed with an incentive tax since January 1, 2000 and is no longer permitted in paints for industrial wood treatment.

Surface treatment in our painting shop
Picture of our painting in the production hall |swisscarport.ch©
The steel parts are produced by our locksmith.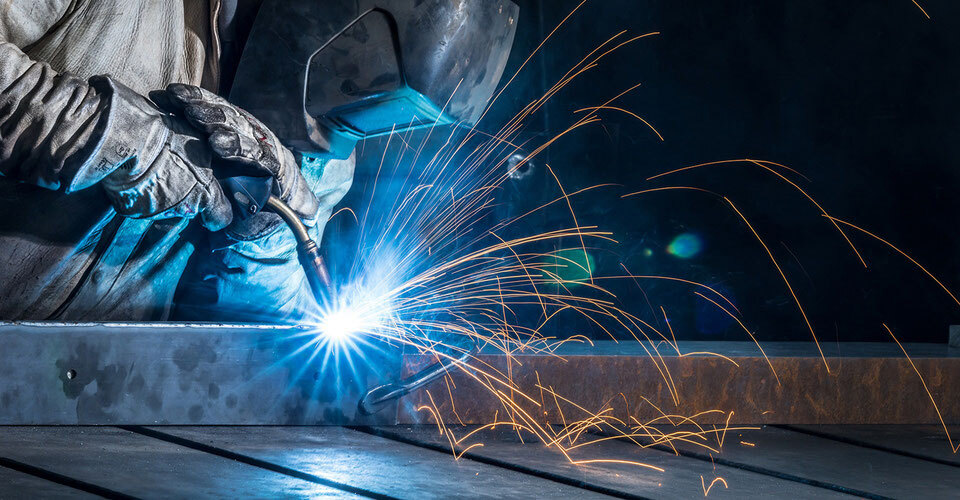 The steel parts we need for our wooden constructions are made according to our specifications by our metal construction partner.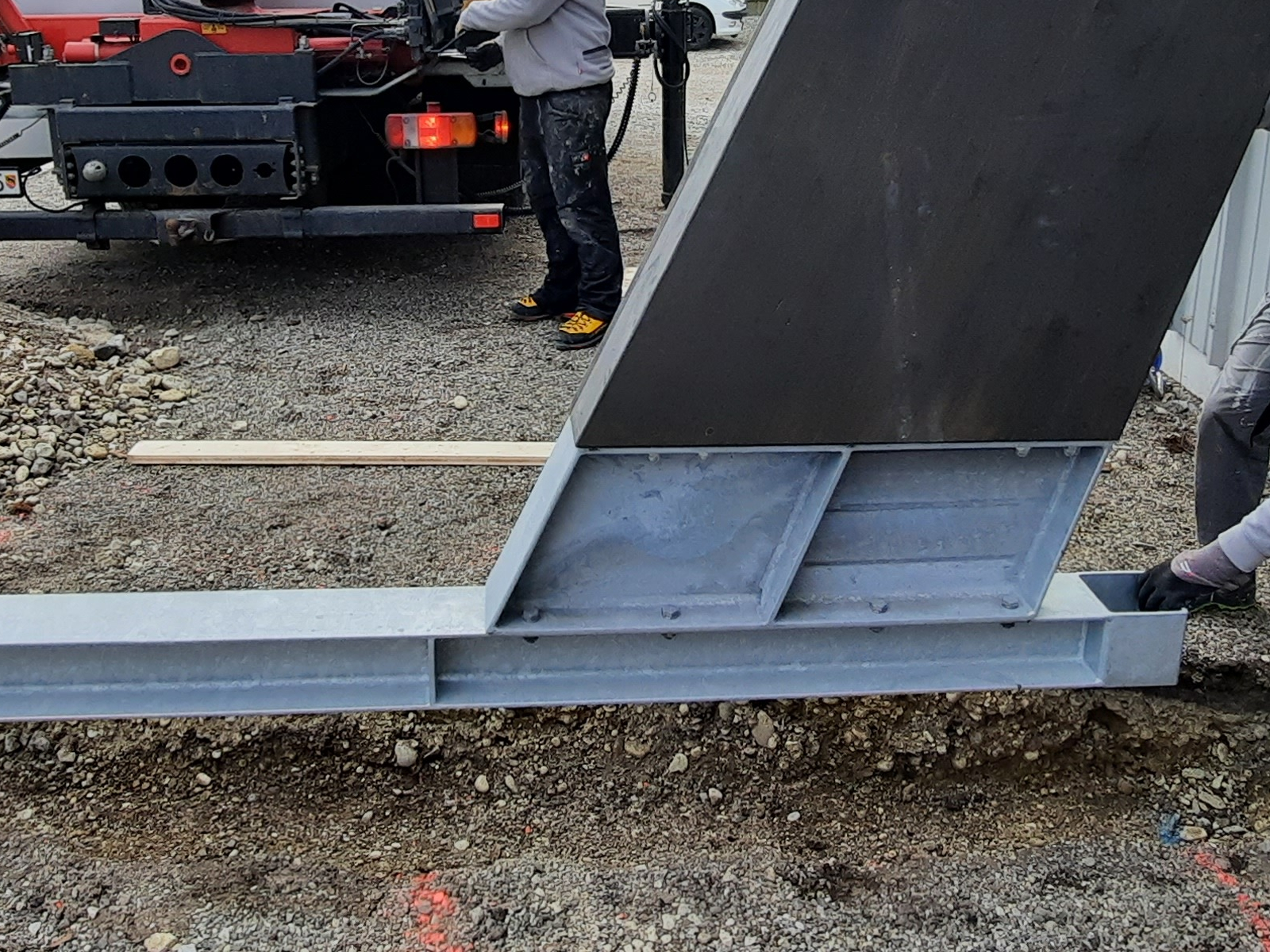 Steel foot of solar carport FLASH |swisscarport.ch©


Services / Implementation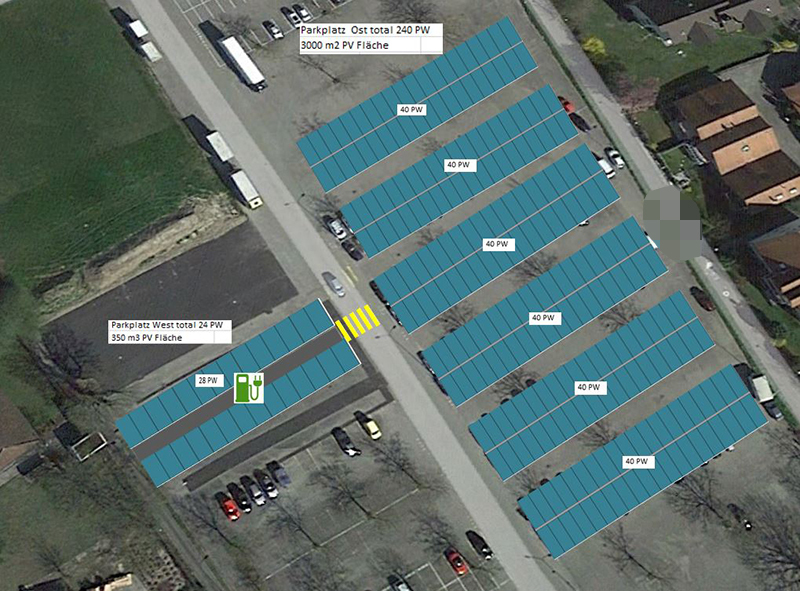 A solar carport must be carefully planned. Thanks to our many years of experience in the field of carport construction, we can provide various services.
Planning and consulting

Obtaining the building permits

Grid connection requests

Application for subsidies

Proof of safety with acceptance of the power station

Coordination of contractors (civil engineering and electricians AC part, etc.)
Depending on the situation and the scope of the plant, we can implement a project for you from the initial idea to the turnkey plant.

Services abroad are only offered on a project basis.


Project proposal for solar parking lot |swisscarport.ch©